Let's be honest: making sure your page is consistent in style and look is a hassle. Especially if you have to do it manually and page by page.
That's why we made it easy with Belch to set your Global styles all in one place and never have to worry about it after. You can adjust all your brand styles right here and not worry about them not being consistent throughout. With our super easy tool, Belch makes it easy to customize in great detail every single element of your page.
Here's how:
Set your Header and Menu Styles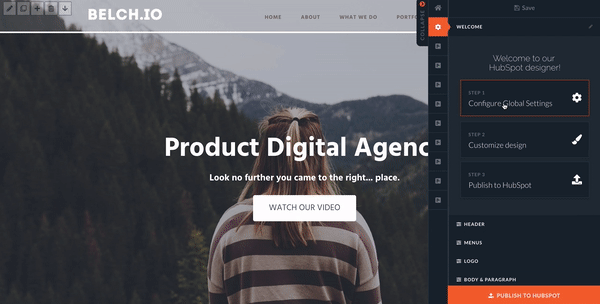 First, decide how your header and menu should look like or if they should even be visible. Here you can change font colors, weights, and sizes. If you have a specific RGB you can absolutely plug that in and make your life easier.
Because Belch is fully integrated with Hubspot, you can also select what kind of menu to use from the ones already published in your Hubspot portal. This will help making your landing page look consistent with the rest of your website.
Set Global Styles for All Your Fonts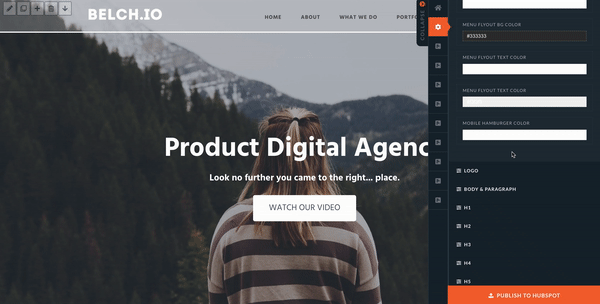 Can you imagine clicking "add paragraph" to your landing page, and it's already all branded and consistent with the rest of your website? Fonts, sizes and colors. Amazing right? Well, Belch does that.
In just a few minutes, you can set up all your headers and paragraph fonts and sizes and never have to worry about inconsistency again. Pick from the hundreds of Google fonts available, stylize every header, and save.
The best part about all of this is you can save your landing page as a template and utilize it as a base for every new page you have to create so you don't have to build one from zero again! For agencies that have to work with several clients, who all have different brand identities, this is incredibly time-saving.
Got more questions? Connect with us.